ArchXpo 2019 SFIC Booth
Furnishings
1879 views
1879 views
The Singapore Furniture Industries Council (SFIC) had a booth at the recent ArchXpo 2019: The International Exhibition for Architecture & The Built Environment. The expo was held at Marina Bay Sands from the 1-3 of October 2019.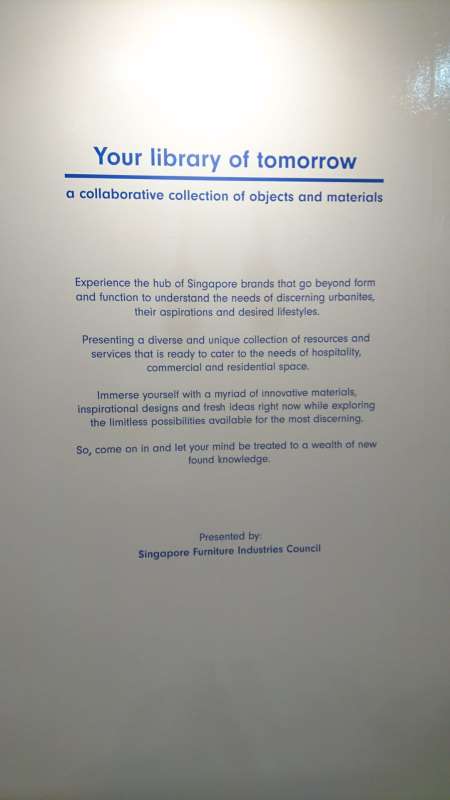 Image © RenoTalk media team

The SFIC's booth comprised of seven different vendors and was set up by Renovator Hub, a local commercial fit-out company. The seven vendors were: Wall Studio Singapore, YZ Timber Trading, Ewins Pte Ltd, Benel, Neupanel, Decor Fan Singapore, and Zenterra Lighting.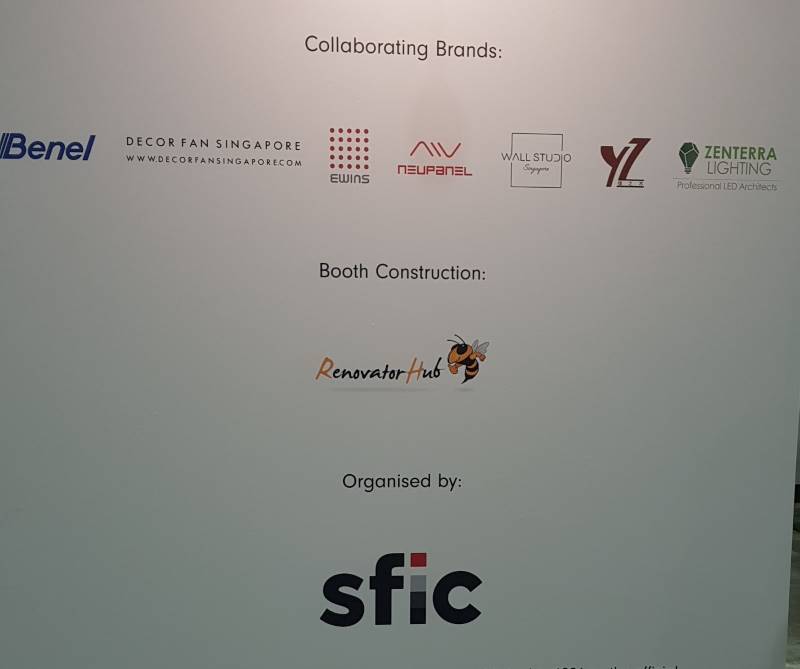 Image © RenoTalk media team

To find out more about the products and services of the vendors, keep reading.

1. Wall Studio Singapore
Wall Studio Singapore is a company that does special wall finishings. They work only with special paints and laminates. One of the laminates showcased is a special 3D laminate imported from Austria. Everything used by Wall Studio is European-made.

Why 3D panels? The panels are all about touch. Design that you can touch. These 3D panels are highly flexible. So, you can use them for any decorative purpose. They can be used for feature walls, furniture coverings, or cabinet paneling. The panels work on just about any surface. The use is limitless in projects; residential to commercial, you name it. For example, these panels are popularly used in restaurants as wall decor.

Besides that, Wall Studio showcased special mirror laminates at SFIC. Which, are definitely different from your conventional opaque patterned wall coverings. Why does Wall Studio opt for mirror laminates as wall coverings though?

First, its quality is assured. Mirror laminates usually leave much to be desired. Often times they can't even reflect clearly. These reflect sharply. Secondly, because these are bendable mirror laminates made using new technology. Lastly, is its ease of use as a material for design. These are lightweight, unlike conventional mirrors. So, they can be used just about anywhere for interior design. 
We spoke to Ms Nina Medic of Wall Studio Singapore. Image © RenoTalk media team


2. Renovator Hub
Renovator Hub is a commercial fit-out company. They provide interior fit-out works/ services for commercial spaces. These spaces include offices, food & beverage and retail stores. Renovator Hub specializes in the design and build for companies that require in-house facilities for fabrication and machinery.

What makes Renovator Hub a great fit-out company though? They have their own project teams. So, they finish turnovers in a short time. Much like what they showcased at SFIC; providing quick fit-outs from a mobile facility. Imagine what they can do with their main facility. 

Besides that, Renovator Hub even has its own backend facilities for fabrications during their projects. They have their own carpenters to do all the woodwork on their projects.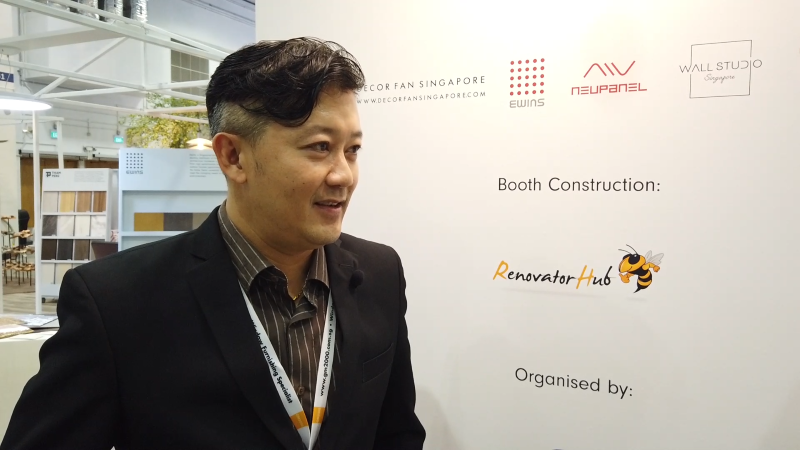 We spoke to Mr Don Lim of Renovator Hub. Image © RenoTalk media team


3. YZ Timber Trading
YZ Timber Trading is a specialized parquet supplier. In case you've never heard of this, parquetry is a geometric mosaic of wood pieces used for decorative effect. YZ Trading supplies parquet to the local market, be it for installers, end-users, or projects. The company was established in 2007 so it has years of experience and expertise in parquet.

YZ Trading was at SFIC to promote a new form of parquet they offer. It's different from the traditional parquet. This new form is an artsy take on parquetry. It can be used as flooring or wall paneling. YZ Trading hopes designers, architects, and end-users can get to know about their new parquet. And, hopefully get a better understanding of parquetry from it. 

4. Ewins Pte Ltd
Ewins Pte Ltd is a distributor of various materials for building and design. They specialize in innovative surface materials mainly for architecture, hardware, and furniture components.

At SFIC, Ewins Pte Ltd was featuring Parklex, a breakthrough wood with no maintenance from Spain. Parklex is a natural veneer material treated according to its application. It can be used for outdoor facades, decking, interior wall ceilings, as well as flooring. 

How is Parklex different from any other material in the market though? It's high performance while needing zero maintenance. Parklex is durable too. It's high scratch and moisture resistant. Besides, it is quality and durability assured. Parklex's outdoor range comes with necessary certifications. For one, it's SCDF certified as fire-retardant material. Therefore, Parklex is widely used in many residential and commercial projects within Singapore. 
Ewins Pte Ltd was also showcasing a space-saving solution by the Italian brand Atim at SFIC. On showcase was an extendable table that could be stored within a drawer compartment. It's perfect for use in modern apartments where space is a luxury. The tables can be easily put away when not in use. 

5. Benel
Benel is a homegrown local brand specializing in furniture for the last 31 years. At SFIC they were showcasing their flexible furniture system. The furniture can be used for anything from lounge all the way to office applications. 

Benel thought the furniture great to keep up with the upcoming trends of coworking spaces. Their furniture is designed for multiple uses. For example, their table is not just a table. The table can be integrated with a sofa and the sofa could work as a desk. That same table could even be used at home in a space for the kids to play while their parents work.

The lounge corner set up by Benel at the SFIC booth could be used in a library or, at home as a reading corner. The lines between office and home now converge. To Benel, this kind of furniture need not be confined to an office. And, the soft elements of home furniture can be brought into the office.

Benel also featured the furniture set called "Play at Work" at SFIC. The set integrates playful elements into their furniture for it to appeal to kids. All the panels are made to where kids can actually pin their notes on the panels and play with.

Interested in checking Benel out? They have a showroom at Paya Lebar Road which is open on Saturdays. Worry not. They do sell to consumers despite being a business-to-business (B2B) company.

6. Neupanel
Neupanel is a company under Thiam Peng which specializes in melamine boards. Their products include melamine plywood, particle boards, and MDF. Their boards and uses were on display at SCIF.

The uses of these boards can be for kitchen cabinets, carpentry, wardrobe systems, and etc. Usage is most recommended for furniture. Neupanel's surface melamine could be used for flooring but others are only suitable for use as furniture.

Neupanel has materials suited for different uses or areas. For sinks and vanity cabinets, they recommend their waterproof materials. For wardrobe systems, particle board works. 

7. Decor Fan Singapore
Decor Fan Singapore is a company that does custom ventilation solutions for commercial, residential, and industrial projects. Their ventilation solutions use a unique material which actually increases wind flow. The material is suited for various applications and uses.

Decor Fan will customize their ventilation systems with different textures, shapes, and sizes depending on the customer's individual requirements. Their systems are made for individuals that are cost and functionality oriented. As anyone would know, in Southeast Asia, ventilation is a necessity.

All Decor Fan's designs are nature-inspired and bio-engineering focused. At the SCIF booth they showcased their design inspirations. They feel different designs can communicate different spatial needs and aesthetics. They use textures in their products to create creative randomness for users to have different mood settings within their homes.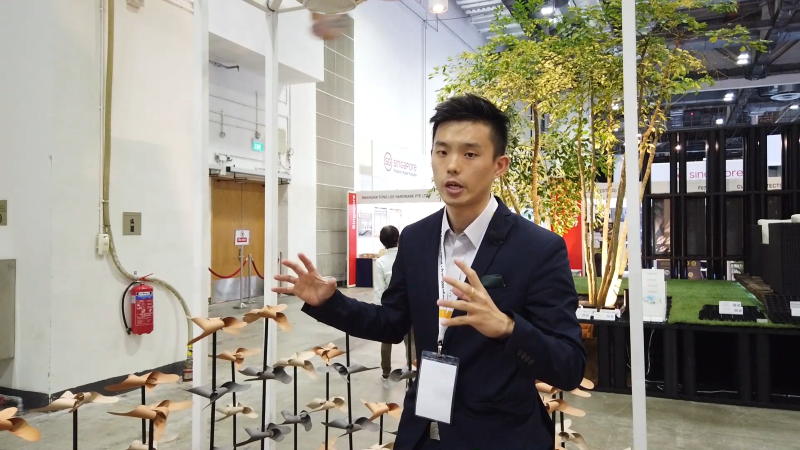 We spoke to Mr Aaron Teo of Decor Fan Singapore. Image © RenoTalk media team

8. Zenterra Lighting
Zenterra Lighting is a brand started by a father-son duo. The duo set out to create a lighting brand that was special and longer lasting for the market.

Showcased, was their in house LED brand, eCODO. Eco-friendly and energy-saving are the cores of their brand. Zenterra Lighting actually manufactures, researches and develops their own LED drivers to make them last longer than the market standard. They also try to lower prices to make it affordable for most households.

They have hopes to actually change the way people see lighting. For them to move away from normal halogen lights and downlights to LED lights which save electricity. With LED lights you can actually save half of what you spend on your electricity bill.

They also showcased their ionizer series. These lights emit negatively charged ions which can break down dust particles. They can combat haze and indoor smoke. Also, can kill bacteria in the air and purify. They eliminate microdust, airborne germs, and smoke. These lights are great for indoor air quality. On top of that, they're very bright.

In case you want to see more, Zenterra Lighting has two showrooms, one at Ubi Road and another at Jurong East. 
Request for quotes and we'll match you with a selection of Interior Designers!
Previous
Highlights of the Colours Symposium at SIDS Fest 2019
Next
New Chapter Design: Reliable Interiors and Renovations